With your busy work and family schedule, it is not easy to perform routine mowing, trimming, and edging on your own. When looking into professional lawn care, however, costs can be intimidating.
We at Rivers Lawn and Landscape know the importance of maintaining a well-manicured lawn, and we are dedicated to providing high-quality, professional service with the most value for your dollar. Please continue reading to learn more about our services and pricing, and get a free lawn care estimate for your property. 
Questions When Hiring a Lawn Care Service Provider
Many homeowners handle their annual lawn care on their own, without the help of a professional. However, between your job, family, social life, and housework, it can be tiring to also take care of your own lawn.
When considering hiring someone to take care of routine lawn care such as mowing, trimming, edging, and blowing, many important questions may come to mind:
Why do costs vary from company to company?

What happens if they break something?

What happens if an injury occurs on my property?
We at Rivers Lawn and Landscape are here to answer these questions for you.

Average Cost of Hiring a Lawn Care Service Provider
The industry standard or average charge for lawn care services is approximately $1 per minute per man or $60 per hour.
When customers learn of this average cost, they often think, "$60 an hour to cut my grass seems a bit high." And while it may seem more worth it to do it yourself, there is a lot more to the equation than some may think.
What do Lawn Care Service Providers require to be successful?
To be competitive and earn a profit, lawn care companies must be efficient. To be as efficient as possible for our customers, we must have state-of-the-art equipment, dedicated employees, and foolproof systems. Therefore, most lawn care companies can mow, trim, edge, and clean up 1-2 acres of grass in less than an hour.
If a homeowner were to tackle this job on his own, or even with a partner, it would most likely take a lot longer than this. On average, we can service your property in 1/2 or even 1/3 of the time it takes the average homeowner with residential equipment.
Our efficiency comes at a cost, though. Lawn care companies must spend thousands of dollars on equipment and maintenance to be this efficient for our customers. Now this $60 seems a lot different, especially when it would take the average homeowner 2-3 hours to complete the same work (depending on equipment).
Average Hourly Cost of Operation for Lawn Care Service Providers
Now that you're familiar with the average cost to the homeowner, let's break down the average hourly cost of providing lawn care.
$20 – Hourly wages + federal/state taxes + workers comp + benefits
$8 –   Fuel
$7 –   Depreciation of Equipment
This breaks down to about $35 per hour, and these are only the obvious expenses. There are still more behind-the-scenes costs that may not break down hourly, but that are still a part of our operating costs.
Advertising

Uniforms

Vehicle maintenance

Commercial vehicle insurance

Liability insurance

Trailer maintenance

Mower blades

Equipment maintenance

Trimmer string

Oil for mixed gas

Office espenses

More and more
Although it costs a lot to operate a lawn care service company, It costs even more to provide outstanding service. Including all expenses, lawn care service companies pay approximately $40-45 an hour to operate and break even. This leaves $15 an hour for profit – 1/3 of which Uncle Sam takes as taxes – leaving us with about $10 net profit per hour.
A $60 cost quickly turned into a $10 profit. At the end of the day, lawn care companies must profit to stay in business and provide outstanding service.
Why do costs vary between companies?
We're all familiar with the old saying, "you get what you pay for." This statement is often true, especially when referring to a lawn care service provider. Some companies or individuals are much cheaper than we are. However, it all comes down to your expectations of your lawn care service provider. We believe we as a lawn care service provider give the highest quality service by delivering top-notch customer service, showing up on time every time, and treating your property as if it were our own.
Top 5 reasons why other lawn care service providers may charge less than us:
They do not pay taxes.
Owner/operator is a one-man show that has very little overhead.
They pay their employees less than we do
Lack of liability insurance or workers compensation insurance
They take shortcuts on your property and do not pay attention to detail as we do
If they are taking shortcuts in their business, they are taking shortcuts on your property.

What happens if a lawn care service provider damages something on my property?
The Good
No matter how careful we are, accidents are sometimes unavoidable. Picture the following scenario: a professional lawn care company is servicing your lawn, and a rock gets thrown by the mower blades. What happens if a stray rock gets thrown from a mower and does $1000 worth of damage to your vehicle?
At Rivers Lawn and Landscape, we take full responsibility for any accidents on your property. Our liability insurance protects the customer and our company from any damages resulting from our service. Click here to learn more about the benefits of hiring an insured company.
The Bad
Now picture this alternative scenario: you hired an uninsured guy to cut your lawn. While cutting your grass, he accidentally launched a rock from his mower and busted the glass storm door in the front of your house. He's a really nice guy, but he doesn't have the money to pay for it. Now you must sacrifice hundreds of dollars to replace the door.
At the end of the day, you paid a lot more than you expected for lawn care. It can actually save you money to hire an insured company like Rivers Lawn and Landscape.
What happens if a lawn care service employee gets injured on my property?
The Good
If a Rivers Lawn and Landscape employee experiences an injury on your property, you have nothing to worry about. We have full worker's compensation insurance to protect our customers and employees.
The Bad
If an uninsured person gets hurt on your property, however, you could be held liable to pay for their medical expenses. Again, it can potentially save you hundreds of thousands of dollars to hire a properly insured company. It's just not worth the risk to save a few dollars per week.
Why it is worth the cost to hire a lawn care professional
1. Can quickly identify problems you may not notice
Professional lawn care service providers like Rivers Lawn and Landscape are very experienced and have very keen eyes. While they are handling routine lawn care on your property, they may notice issues on your property that need to be fixed.
These issues include disease, signs of improper drainage, fire ants infestations, and other problems. If you identify these problems early, it will be easier to remedy than if the problem gets out of control. Learn more about fire ant control here.
2. They can get to know your property
If you do end up with a problem needing to be fixed, it may be simpler to hire the same professional than to find someone new (as long as the problem is within their scope). For example, imagine you learn from your lawn care service provider that you have a fire ant infestation on your property.
If you can hire the same professional to provide fire ant treatment rather than hiring a different person, it may turn out to be cheaper. This is because this professional is already familiar with your property and can provide you a quote more quickly and can treat your property for fire ants more quickly. This will save you money in the long run. Learn more about fire ant control here.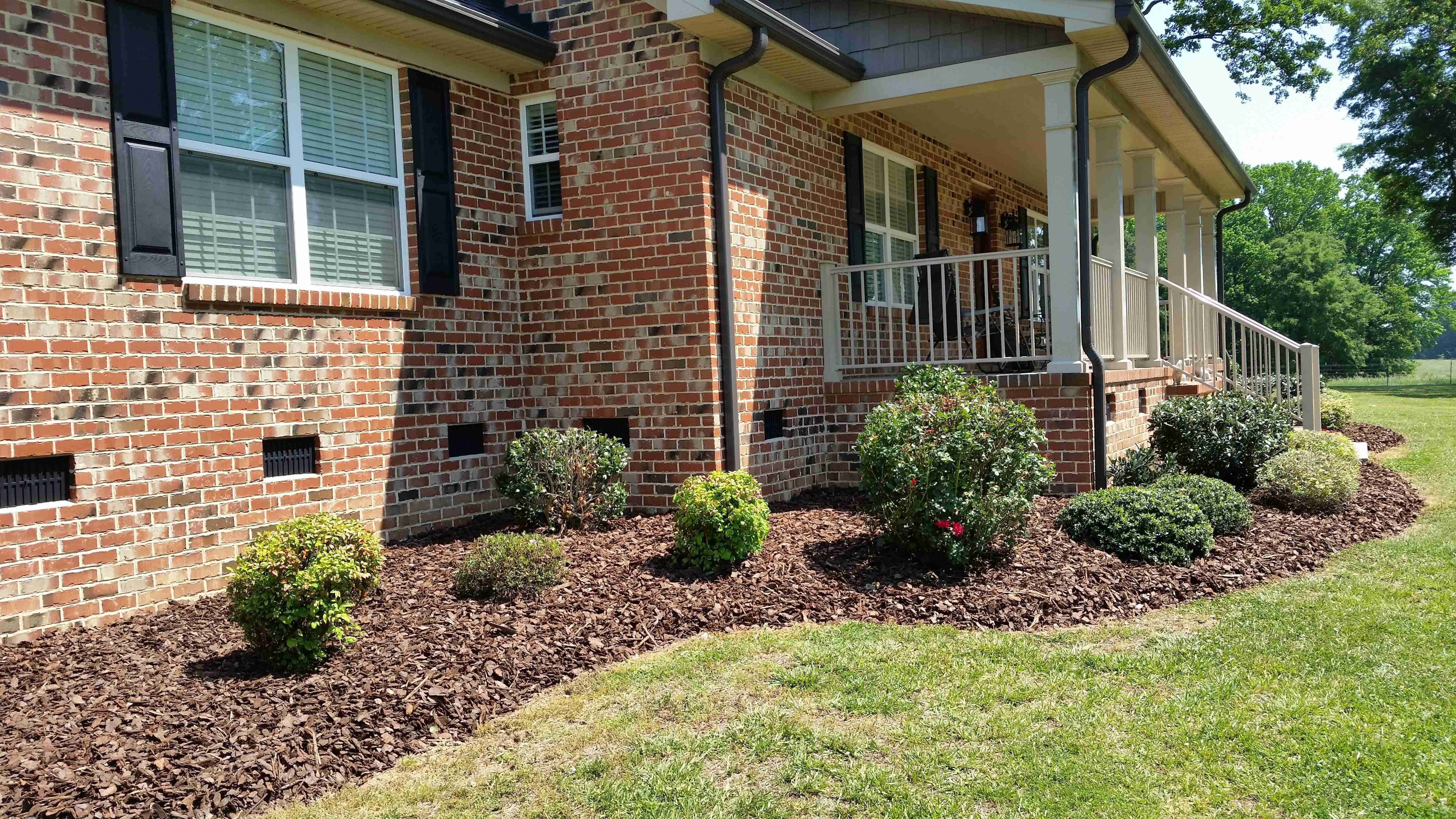 3. Higher quality
Allowing a professional to take care of your lawn care needs leads to a higher quality job done. We have advanced equipment as well as an experienced team. Since homeowners or "one man show" lawn care companies may not have this equipment or expertise, the quality of the job will show. We make sure to cut your grass to the perfect height, pay attention to detail on your trimming and edging, and clean up leaves and brush carefully to leave your lawn looking its best.
4. Curb appeal
With a higher quality lawn care job, your curb appeal may automatically increase. This is especially important if you have your house on the market or are considering listing it soon.
Your lawn and landscape is the first thing people see when they arrive at your property, so it is important to make good first impressions.
5. Protection for you
Since our company is fully insured, you can have peace of mind in knowing that if any incident happens on your property, we are covered. This will protect our customers, employees, and your home and property.
5. More time on things that matter
When you allow a professional to handle your routine lawn care and landscaping needs, you will have more time to focus on things that matter. Many homeowners spend hours per week caring for their lawn, and if you had that time to yourself, you could better focus on things that matter. You would have more time for work, your family, and your hobbies, and this is priceless.
6. More than just "affordable lawn care"
When looking to hire a lawn and landscape professional for the first time, many homeowners are simply looking for affordable lawn care. However, Rivers Lawn and Landscape prides ourselves on being more than just "affordable lawn care."
We provide high-quality, professional service that will give you more value for your dollar. Click here to learn about the services we offer.
Takeaways
You are much better off to hire a professional, detail-oriented, fully-insured company that can meet your expectations for lawn care service.
Don't assume that because it takes you 2 hours to maintain your lawn, it would cost $120 to hire someone to cut your lawn – that's not the case. We have the equipment, people, and systems in place to service your lawn quickly to deliver a quality service at a great value.
Next Steps
Many customers in Pageland, SC, and the surrounding areas are satisfied with our service. Just take a look at our Google and Facebook reviews.
If you're interested in finding out how much it would cost for us to maintain your lawn, we would be glad to provide a free estimate for you. Each lawn is different and requires a unique approach to best suit your needs.
If you need help with lawn care or landscaping services, don't hesitate to contact us.