Almost every homeowner strives to have a beautiful landscape. However, there are many mistakes that homeowners commonly make that are taking a toll on their lawn and landscape. If you learn how to avoid these mistakes, you will be on the road to an incredible landscape that leaves you proud of your home and property. By consulting with a landscaping professional like Rivers Lawn & Landscape, we can give you the tips you need to succeed in your lawn.
12 Most Common Lawn and Landscape Mistakes
1. Having a Chaotic Landscape
One thing that definitely takes a toll on your property's look is having a chaotic landscape. Many homeowners choose plants, ground cover, trees, and shrubs individually rather than choosing them all together. Doing this could result in a messy, unpleasant look. Your landscape should operate as one. To do so, you must coordinate the different parts of your landscape so that they look nice together. If you plan ahead and choose plants that complement one another, your landscape will have a more uniform, immaculate look.
2. Mowing Your Grass Too Short
Your grass can be one of the most high-maintenance parts of your yard. It takes up most of your property, so keeping up with watering, fertilization, and mowing schedules can sometimes be difficult. Some homeowners choose to cut their grass shorter to delay their next mowing. However, this can be a big mistake. A general rule of thumb is to cut 1/3 (or less) of the grass' height when you mow. If you cut too much, you risk the grass' health and ability to fight off disease. For guidance on cutting your specific breed of grass, check out Clemson University's article on mowing lawns.
3. Not Planning Your View From Your Window
While you often enjoy your landscape from the outdoors, it is possible to enjoy it from indoors, as well. Many homeowners enjoy sitting and admiring their landscape from their windows. However, if you forget to plan what your view will look like from your window, you may not be able to enjoy it very much. Before establishing your landscape, plan what you will see from your window to get maximum enjoyment.
4. Not Installing Irrigation
Most homeowners try to create the most beautiful landscape possible while spending the least amount of money. There is nothing wrong with this, as budgeting when landscaping is important. However, if your budget causes you not to consider irrigation, you should reconsider.
Irrigation has many benefits:
Cuts down on manual maintenance
Keeps your lawn and landscape hydrated and healthy
Can save you money on your water bill
Can increase your property value
If you are interested in learning more about irrigation and its benefits, reach out to us.
5. Using too Much Fertilizer
Fertilizer can do wonders for your grass and your plants. However, people tend to apply too much, which can have harmful effects on your plants, your budget, and the environment.
Over-fertilization causes plants to grow too quickly and their root systems may not be able to keep up. This may result in large plants with roots that cannot keep the plant hydrated. Additionally, using too much fertilizer simply costs you more money. Lastly, over-fertilization can result in fertilizer being washed into the street, into drains, or into rivers and streams. These chemicals can have harmful effects on animals if ingested.
Using the correct amount of fertilizer can encourage healthy plant growth, save you money, and protect the environment. The safest way to ensure you're using the right amount is by hiring a professional. 
6. Failing to Plan Ahead of Time
One of the worst mistakes you can make in your lawn and landscape is failing to plan ahead of time. This can have many detrimental effects on your landscape.
The first negative effect that failing to plan can cause is having a chaotic landscape, as mentioned before. If you do not plan your landscape and put random plants in random places, you will have a messy, unpleasant landscape.
Another negative effect of failing to plan is putting plants in the wrong spots. Failing to plan where you put your plants can not only affect your landscape's look, it can cause your plants to die. Most plants have an optimal environment where they're meant to live, and planting them in a random spot may not satisfy their sunlight or watering needs.
Failing to plan your landscape can also result in overcrowded plants. If you do not think about the future when you plan your landscape, you are negligent to your plants. It would help if you considered how your plants will look when they are matured so that they have plenty of room to thrive and establish root systems.
7. Failing to Maintain
Another common mistake people make in their landscapes is failing to maintain them. Have you ever seen someone spend thousands establishing a beautiful landscape and then never touching it again? If you are this person, you are wasting your time and money. To get the most out of your landscape, you must maintain it. You must cut your grass, prune your bushes and shrubs, water your plants, etc., to maintain a good-looking property.
8. Not Budgeting
Along with failing to come up with a plan, failing to budget is a huge mistake. If you are designing a landscape, it is important that you first establish a budget, estimate your costs, and stick to that budget. If you fail to do this, one of two things may happen:
You may spend more than you intended.
You may have to stop your landscaping project halfway through because you ran out of money.
Creating a budget may sound intimidating, but it will pay off in the long run. Unsure of just how much to invest in your landscape? The American Society of Landscape Architects suggests that you invest 10% of your home's value into your landscaping. If you need help creating a budget and estimating your upcoming landscaping project's costs, consult with the professionals at Rivers Lawn and Landscape.
9. Overwatering
Many homeowners are afraid of underwatering their lawn. As a result, they water their grass and plants very frequently and deeply "just to be safe." While you may think overwatering plants will not cause any damage, it can actually cause just as much damage as underwatering. Giving plants too much water can drown the plant's roots and prevent the roots from absorbing nutrients and oxygen. As a result, the plant can wither and die. Monitoring your watering volume or installing irrigation can ensure that you do not overwater your plants.
10. Not Getting a Soil Test
Many homeowners use fertilizer in their lawn and landscape. However, many choose a fertilizer without first examining the situation in their soil. Soil differs in different locations, and therefore different soil has different needs. Plants require different nutrients from different sources (the air, water, and soil), and if there is a deficiency, your plant can suffer. Getting a soil test can let you know what nutrients your soil is lacking, and it can give you suggestions on which fertilizers will work best for your lawn.
11. Forgetting Ground Cover
Ground cover can often make or break your landscape. It is such a vital part of your landscape's look since it takes up such a large area of your property. Therefore, installing a ground cover is essential to having a beautiful, put-together landscape.
There are many options to choose from, but your main three options are mulch, rock, and pine straw. These three different types have different benefits, pros, and cons. If you are interested in learning about the difference between each type of ground cover, let us know.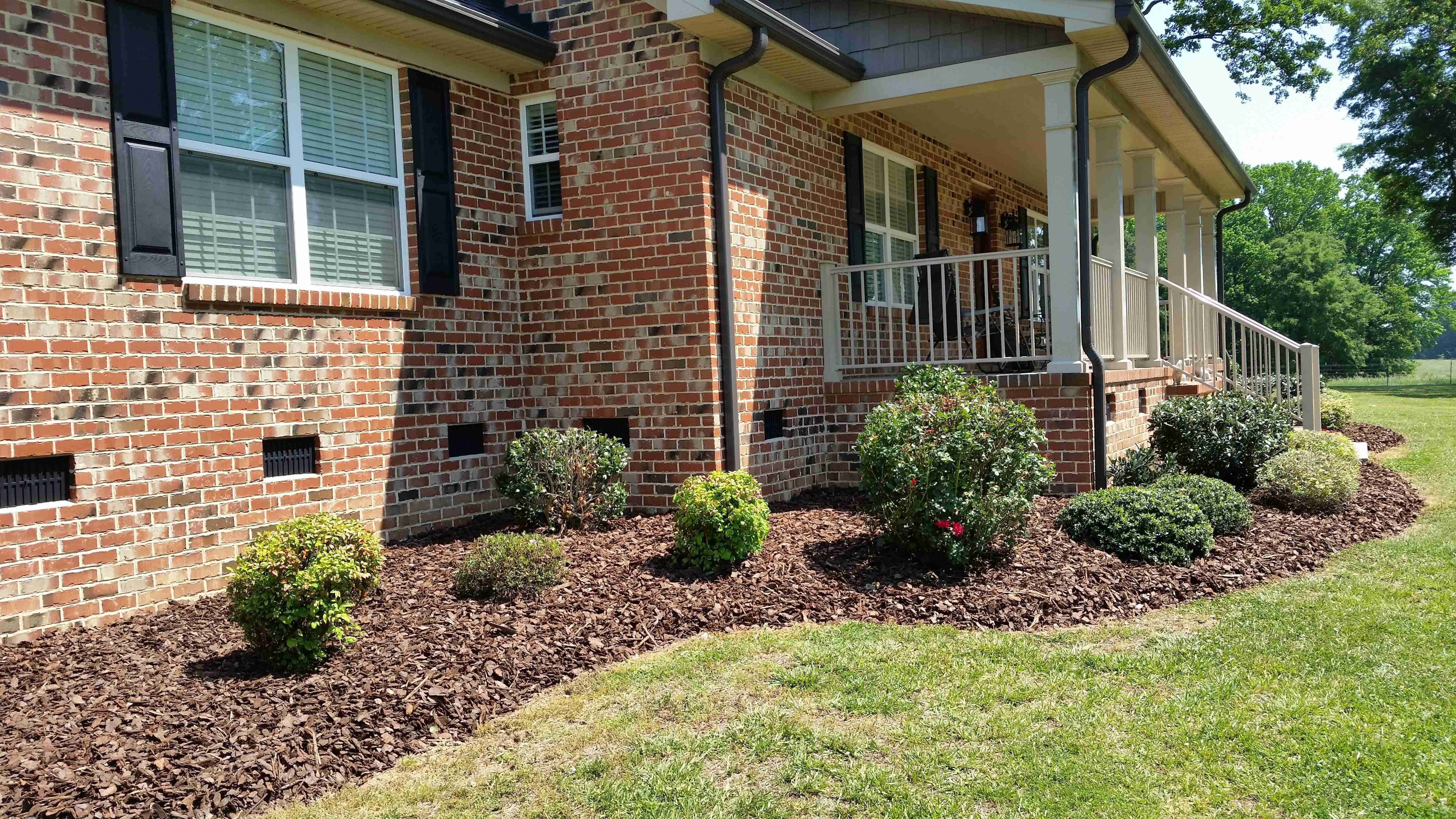 12. Failing to Consult With A Professional
There are many elements to consider when budgeting, planning, designing, and installing the lawn and landscape of your dreams. Many homeowners find themselves overwhelmed and lost in the process, as it can be lengthy and time-consuming. However, consulting with a lawn care and landscaping professional can make the process a lot easier.
Lawn and landscape professionals like Rivers Lawn and Landscape are experts on many topics, and we are likely to have the answers to your questions. If you try to handle this process on your own, you may end up spending more than you'd planned or making a mistake that greatly impacts your lawn and landscape.
Next Steps
Now that you are aware of many common lawn and landscape mistakes, you can work to avoid them. This new knowledge will save you time and money, and it will help create a beautiful landscape. However, we know this process can be difficult, especially if you do not have a lot of landscaping knowledge. If you need help with any step in the budgeting, planning, designing, or installation process, let us know. We are dedicated to making your lawn and landscape dreams a reality.