Many homeowners put their houses on the market and get frustrated quickly. This frustration typically arises for one of two reasons: 
They are not getting offers on their home
They are getting offers, but they aren't as high as the homeowner wished.
If you have found yourself in this situation, you may want to take a look at the quality of your lawn and landscape. Having a well-maintained lawn and landscape can increase both the curb appeal of your property and the number of potential buyers. For this reason, having a manicured, clean landscape is essential when putting your property on the market. Unsure of how to increase your property value through landscaping? Read more to find out how the help of a landscaping specialist can change the game when selling your home.
Landscaping and Property Value
Landscaping has many benefits when selling your property.
Business and Home Resale: Unable to sell your home or business? Taking the time to properly landscape your property can attract buyers and increase their perceived value of the property.
Increased Curb Appeal: Landscaping gives your property a clean-cut, manicured look. By making your home look beautiful from the street, you are giving your home a leg-up in the market. When potential buyers see your home, the landscaping may catch their attention and increase their interest in your home. This will give you more prospective buyers.
More Prospective Buyers: When you increase your curb appeal, you will likely attract more prospective buyers. When you have multiple offers to choose from, you could harvest more money from selling your property.
Attention to Detail: When buyers look at your well-manicured landscaping, they will notice the time and effort you put into creating a beautiful property. When buyers know you took the time to maintain the outside of your home, they will likely think you did the same thing on the inside of your home.
Better First Impressions: The outside of your home is the first thing buyers will see. We all know first impressions are important, so be sure to spend time making sure your first impression (your landscaping) is top-notch.
The Value of Your Landscaping Increases Over Time: Don't wait until the last minute to landscape your home. As plants and trees grow and mature, their beauty continues to grow. Buyers may get a better impression from previously established landscaping.

Impact of Landscaping on Property Value
Many experts say that attractive landscaping almost always increases property value. Researchers at Virginia Tech suggest that landscaping can increase your property value by 5-12%. This could translate to a $7,500-$18,000 increase in resale value on a $150,000 home. Are you unsure of how much to invest in landscaping? The American Society of Landscape Architects recommends that homeowners invest about 10% of the home's value in landscaping.
How to Increase Your Property Value With Landscaping
Landscape Design
Buyers are looking for a sophisticated landscape design, so it is important to have a plan. Randomly placing beds, flowers, trees, and shrubs can give your home a messy, unorganized look. You do not want to send this signal to your buyers. Instead, you want to plan a layout that will flow well and be compatible with your home and property. Many homeowners are unsure of how to design a cohesive landscape. Resources like Better Homes & Gardens' landscape planning guide can be a major help. If you still find yourself needing help planning your landscape, consulting with a landscaping professional like Rivers Lawn and Landscape can be the difference between a beautiful, organized landscape and a chaotic, messy landscape.
Professional Lawn Care
Potential buyers are looking for lush green grass, clean-cut edges, and well-maintained plants, trees, and shrubbery. Luckily for you, investing in professional lawn care can give you the look buyers are seeking. As a result, this lawn care will have a huge impact on your home's value. You may be tempted to handle the lawn care yourself to save money. However, having a professionally maintained lawn can have a 352% return on investment.
Grass
Your grass takes up a large percentage of your property, so buyers will definitely notice it. Having tall, messy grass is not the way to go, so allow lawn care professionals to cut your grass to give a clean, detailed look. Additionally, they can edge your grass and beds and make them look much more groomed. As we mentioned before, buyers are looking for this detailed look, and edging your grass is one of the best ways to achieve it.
Trimming and Pruning
Trimming and pruning can also have a huge impact on your landscape's look. You know by now that we are trying to look as clean as possible, and buyers are likely to notice stray branches and dead limbs. Trimming and pruning shrubs and bushes is a necessity, and it can be easy to learn how. Trimming trees, though, can be a little more complicated and dangerous. To avoid climbing on ladders or having branches fall on your house, consider reaching out to a lawn care specialist to take care of this for you.
Weed Control
The last thing you want is for your buyers to see weeds taking over your lawn and landscape. Seeing a weed problem may make a buyer worried they would have to spend a lot of time pulling weeds and spreading weed killer. However, if you allow a lawn care professional to properly eliminate weeds before putting your house on the market, your prospective buyers can rest assured that weeds will be the least of their worries.
Fire Ant Control
A fire ant infestation can be a major turn off for buyers. Fire ants are dangerous to your property and your family, so it is necessary to take care of fire ants before they take over your lawn. It can be expensive buying fire ant bait from big box stores, so relying on a certified professional to treat your lawn may be the best option. Letting your potential buyers know that you have treated for fire ants will ease their minds and increase their chances of giving you an offer. To learn more about the benefits and pricing of fire ant control, refer to our guide.
Ground Cover
Using ground cover in your landscaped beds can increase the beauty of your beds, complement your home, and increase your curb appeal. There are many options for ground cover, including mulch, rock, and pine straw. Each type of ground cover has different benefits, and it is worth discussing these benefits with a landscaping service provider to decide which option is best for you. While mulch, rock, and pine straw all great options for ground cover, experts suggest that mulch has a 126% return on investment. For this reason, it may be the best investment for the resale of your property.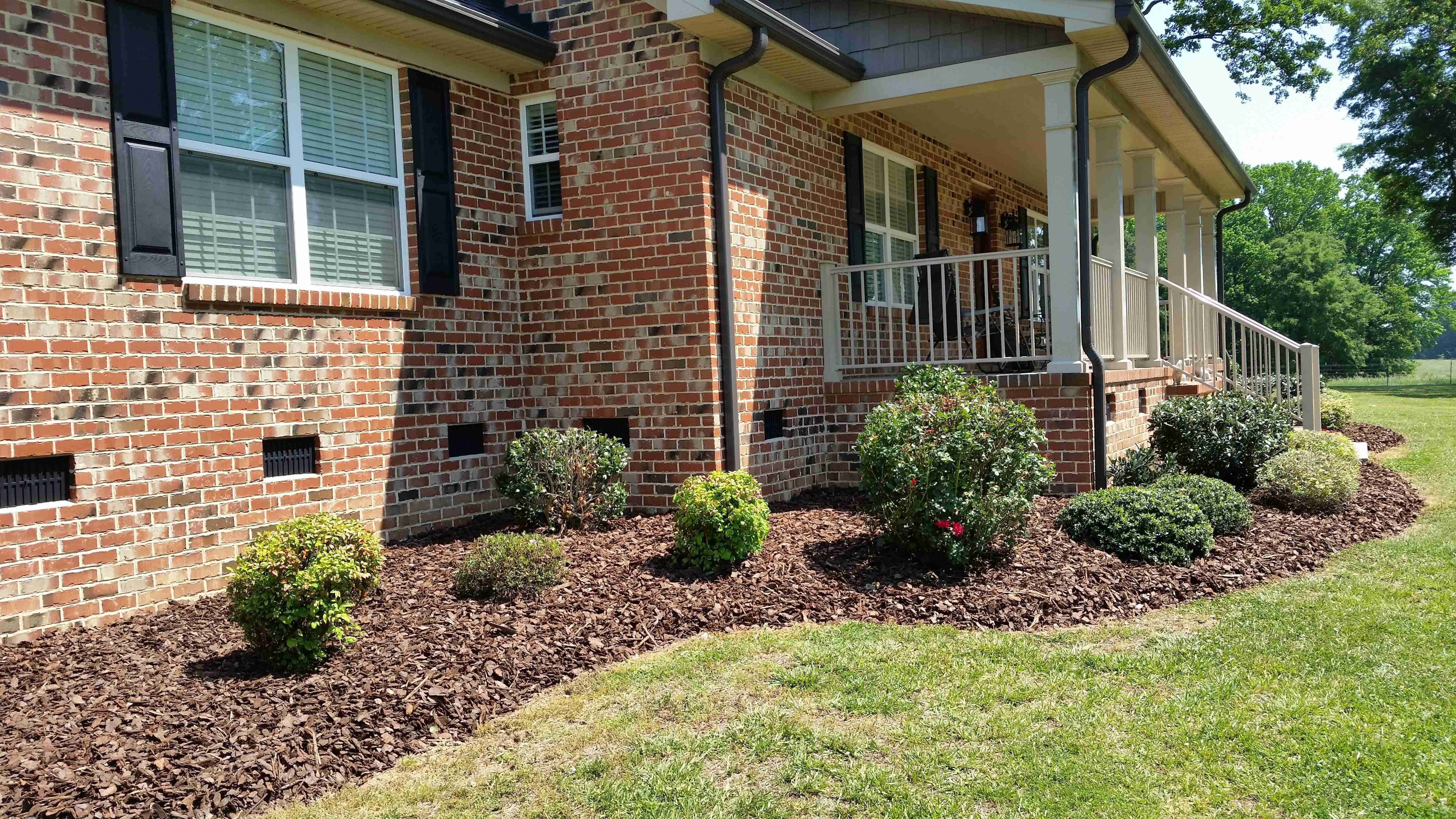 Groupings of Flowers
Just as you want to plan your entire landscape design strategically, you should strategically place your flowers, as well. Planting flowers in a random, scattered fashion can give your landscape a messy, chaotic look. To create a landscape that flows well, consider planting your flowers in groups. Layering your landscape with groups of 3, 5, or 7 flowers will give your landscape the sophisticated appearance you're looking for. Read Pretty Purple Door's article on landscape layering to learn more.
Irrigation
Now that you've beautifully landscaped your property, you want to ensure your plants and grass have the best chance for survival. Buyers want to see healthy, thriving plants, and installing an irrigation system will ensure that your plants stay hydrated. Curb appeal is not the only benefit of irrigation, though. Letting your buyers know that you have irrigation installed may also increase their chances of buying the home. Knowing that you have taken a lot of the hard work out of maintaining the lawn and landscape will be a major perk to them. Additionally, they will know that you put your best efforts into maintaining your outdoor space, and this will communicate that you strive to maintain other areas of your home. If you are interested in installing a high-quality irrigation system, let us know.
Fertilization
Buyers don't like dying plants or a patchy lawn. Although irrigation can promote plant health, fertilization will give your lawn and landscape the boost it needs. Applying fertilizer will allow your plants to grow to their maximum potential, and it will give your property the best look for home showings.
Don't Forget the Back Yard
Many homeowners love spending time outside during the long warm season in southern towns like Pageland, Jefferson, and Monroe. Many people choose to relax and unwind in the back yard, so you do not want to neglect this space. The front yard is your showpiece, but failing to landscape your back yard can negatively affect your home's resale value. However, having a beautiful back yard will have your buyers dreaming of summer nights in their new outdoor space.
Next Steps
Now that you've learned how landscaping can increase your home's value, it is time to act. Whether you're selling your home now or in the future, it is important that you invest in your landscape. If you are unsure of where to start, the professionals at Rivers Lawn and Landscape can help. After contacting us for a free estimate, we will help you develop a plan that could have buyers lining up at your door.