Most homeowners strive to have a beautiful, well-maintained landscape that complements their home and property. Although maintaining a landscape yourself can require a lot of planning, time, and dedication, many people are afraid to allow a professional to maintain their lawn and landscape due to cost. However, having a professional take care of your lawn and landscape needs will lead to a more high-quality landscape, and it could even save you money in the long run. Continue reading to find out why.
10 Reasons to Hire a Lawn and Landscape Professional
Hiring a lawn and landscape professional has numerous benefits to your property, wallet, and personal life.
1. Expertise
If you attempt to maintain your own lawn and landscape, you may have found yourself lost at some point. Many homeowners ask questions like:
How short should I cut my grass?
How often should I water my lawn?
What type of ground cover is best for me?
Due to a lack of expertise, most people do not know the answers to these questions. However, lawn care and landscaping professionals are experts in their field. The answers to these common questions are second nature to them, and they know how to maintain your property and keep it looking its best.
2. Higher Quality Work
Many homeowners can easily complete the most simple tasks in their lawn. Most people are able to pull weeds, mow, or trim without a problem. However, you likely do not have much experience with more complicated tasks like installing mulch, pruning, or treating for fire ants. If you attempt to do these tasks on your own, you may make mistakes that could lead to issues like plant death, overuse of chemicals, or simply having your lawn looking sub-par. Since professionals do these tasks daily, they are able to get the job done quickly, efficiently, and beautifully.
3. Design Experience
When imagining designing your landscape, it can seem like a fun, engaging process. When getting into the nitty-gritty, though, many homeowners feel overwhelmed at just how much planning and methodology goes into designing a landscape. There are many things to consider when landscape designing, including:
Choosing the best ground cover for your property
Considering sunny and shady areas of your property
Choosing and arranging plants
Blocking bedroom windows
The view from inside your home
If you try to do this process yourself, you might find yourself overwhelmed by the many factors in planning. However, landscaping professionals like Rivers Lawn and Landscape have the software, knowledge, and experience to help you develop a plan that will make your dreams a reality.
4. Saves Time
Homeowners who maintain their own landscape often spend a lot of time working outdoors. They spend numerous hours mowing, trimming, raking, and watering. If you allow a lawn and landscape professional to take care of your needs, this stress will be off your back. As a result, you can spend your new free time doing things that are important to you, such as spending time with family or focusing on your job. Additionally, landscapers like Rivers Lawn and Landscape have a team of workers who will get the job done efficiently. Since several people are working, and since they do these things every day, the landscaping team can likely complete the job a lot more quickly and efficiently than the average homeowner.
5. Saves Money
One of the main reasons homeowners are reluctant to hire landscaping professionals is that they are afraid of the cost. They believe they can save money by planning, buying tools and materials, installing plants, and maintaining their landscape alone. However, hiring a landscaping professional can sometimes save you money in the long run for several reasons.
Landscaping professionals know which plants and grasses grow best in your area. They will make sure to recommend plants that have a lower chance of dying, saving you money on replacing plants.
Professionals can often buy materials cheaper from suppliers than you can at stores like Lowe's and Home Depot.
6. Attention to Detail
Landscaping professionals have experience with all different types of properties. With that being said, they have likely worked with a property that is similar to yours. When planning and designing, they will use their prior experience in design to create a landscape that best complements your home. They will have a lot of attention to detail, and they could think of ideas you never thought of before.
7. Insurance
Since cost is such a huge factor when hiring someone to maintain your lawn, many homeowners choose to hire someone they know to landscape their yard at a lower cost. However, many things can go wrong here. Imagine the following scenario: You hire your neighbor to mow your lawn. He runs over a rock with the lawnmower, and the rock flies up, hits your window, and breaks it. You expect him to pay to fix the damages, but he cannot afford it. Professionals like Rivers Lawn and Landscape understand that accidents happen, and they have insurance to take care of these unfortunate incidents.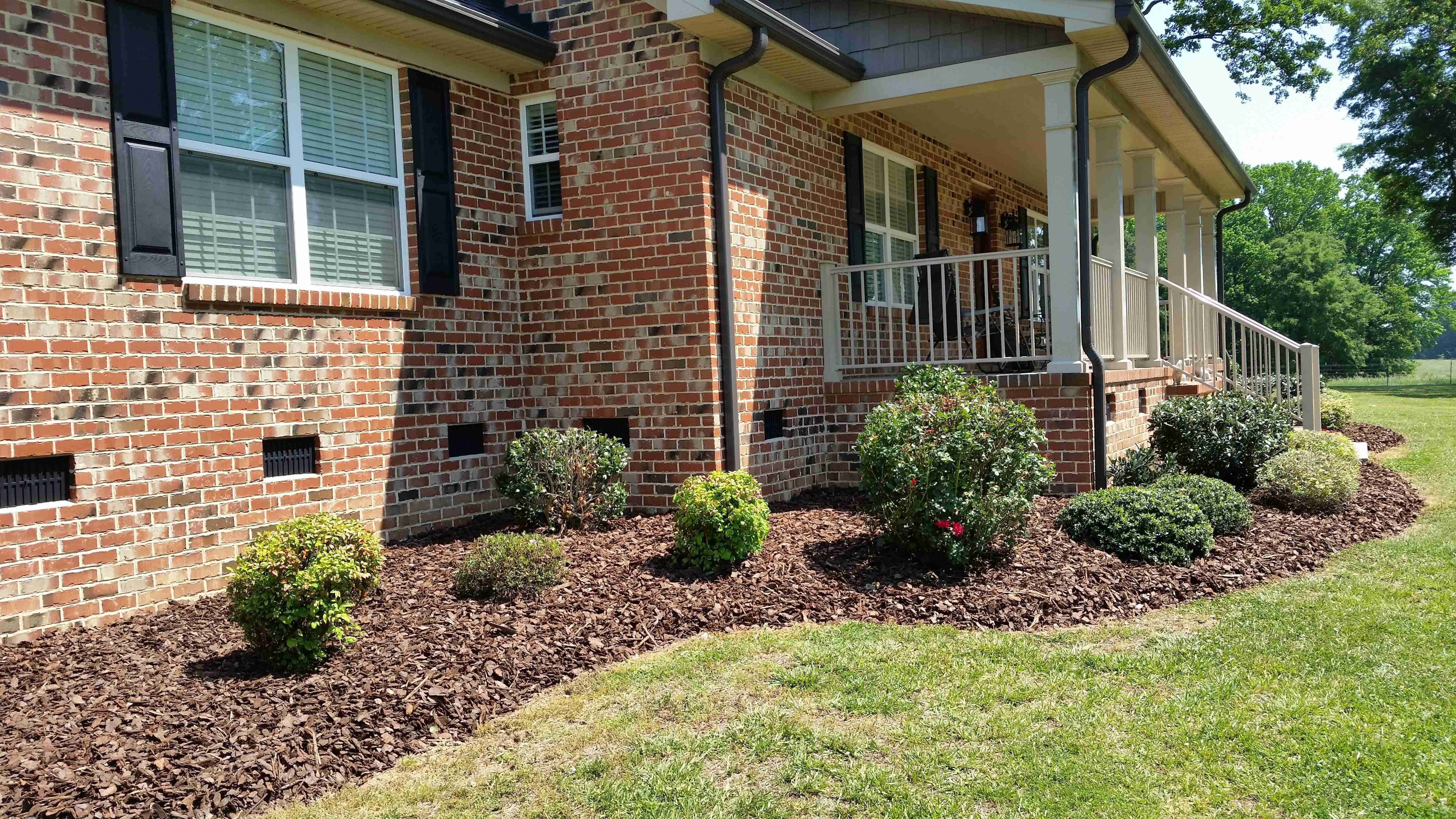 8. Budgeting Guarantees
When planning and designing your landscape, it is essential to come up with a budget. Estimated costs of plants, materials, and ground cover are not always going to be exactly right, and it can sometimes be hard to stick to the budget you originally established. Landscaping professionals are experts at budgeting, and they can help you come up with a realistic budget that will still allow you to reach your goals. Additionally, if you plan a budget with a company like Rivers Lawn and Landscape, they will stick to your budget from start to finish.
9. Increased Home Value
When you are trying to sell your home, your landscape is your home's "first impression" on prospective buyers. Without proper landscaping, some prospective buyers may overlook your home. With that being said, it is important that you have a high-quality, well-maintained property. By relying on a professional to design and maintain your lawn and landscape, you will have an incredible curb appeal. This may attract more buyers and can result in higher offers on your home. Although landscaping indirectly increases home value by increasing curb appeal, certain landscaping features like irrigation can directly increase property value. When you let your buyers know that you have an irrigation system installed, they will know you've taken a lot of the hard work out of maintaining the lawn.
10. Lower Water Bill
One of the most valuable things a landscaper can install on your property is an irrigation system. Not only will irrigation save you time and stress, but it will also save you money on your water bill. You may think that irrigation will drive up your water bill due to scheduled waterings. However, if you are currently watering your grass and plants manually, you are likely overwatering them. Irrigation systems deliver a precise amount of water that is perfect for your plants, leaving them hydrated and healthy. Your plants and your wallet will thank you.
Next Steps
Hiring a lawn and landscape professional has numerous benefits. It can lead to a healthier lawn, a lower budget, and more free time in your personal life. If pricing is still holding you back, we can assure you we offer an incredible value for your dollar. If you have any landscaping projects in mind, or if you need regular lawn maintenance, let us know and we can give you a free estimate.